Roundss News

China Changchun Rongde Optics
Co.,Ltd.

Add:

No.1666 Yaan Road,
North Lake Development District,
Changchun 130102,China

Tel:

86-0431-81856009

Fax:

86-0431-85256892

E-mail:

rongdecui@roundss.net

Skype:

adacui_roundss
ROUNDSS will attend the IMTS 2018 in Chicago!
China Changchun Roundss Optics Co.,Ltd. Release time:2018/5/28 Browse:134
Roundss are looking forward to you to visit our booth ESAT HALL LEVEL 2-121090 in this exhibition, from 10 to 15 September 2018.
The International Manufacturing Technology Show is held at the McCormick Place of the Chicago in America every two years.
We will bring different series of products, including rotary encoders, incremental encoders, linear encoders, optical and magnetic encoders, digital band switches, spindle encoders, servo motor encoders, gear ring encoders, absolute encoders.
We are going to take part in this exhibition to let the people from all over the world know our products have the advanced machinery manufacturing technology and equipment.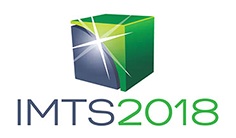 Previous:The status of the encoder industry


Next:ROUNDSS will attend to Automation 2018 exhibition